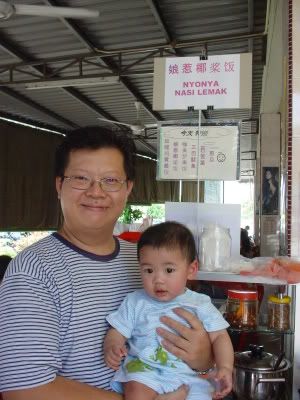 The stylo-milo Nasi Lemak store owner.....
That's Eddy gor gor. He is daddy's childhood friend....
The stories daddy told about their childhood days always
sounded like they had so much FUN together.....
We had Nasi Lemak for breakfast for 2 straight days in a row.
It is really delicious and *ahem* cheap!!
Where can you find Nasi Lemak in Singapore for only $1?!?
(which includes, 1/2 hard boil egg, peanuts, sambal ikan bilis, cucumbers
and not to mention the perfect food presentation!!)
You can choose to add sambal cuttlefish, sambal see-ham,
and vegetables to your nasi lemak,
Doesn't that wet your appetite?!?
Eddy gor gor also sells Nasi Kunyit with Chicken Curry, Glutinous rice with kaya.....
*thumbs up* Mummy and daddy loves his food!!
Psst...psst...by the way, I heard he's still single...his future girlfriend is so lucky...