8 full days of baby-sitting in JB.
8 FULL days without internet connection......
Mummy kinda MISS the BIG BIG world out there.....
"The INTERNET"
So here it comes, a short update.....
Was mummy baby sitting OR Was it my cousins baby sitting me?!?
I was staying in JB from 22 May till 30 May, with 3 beautiful cousins of mine;
Joey che che (12), Rachel che che (9) and Christine che che (8).
It was somehow fun. I was amazed that Joey che che can carry me!!
She is pettite and only 12 year old.... *Great job Joey che che*
Finally, someone else to carry me when mummy ignores me!!
Then we have Rachel che che and Christine che che live performances.
They sang, dance and played the piano to entertain me.....
Talented aren't they?!?
So now you decide who was doing ALL the HARD work of baby sitting?!? (",)
We had a bonus trip to Kukup on the 28th May.
Uncle Chong drove about 1 hour 30 mins from JB.
Kukup is situated south of Pontian a small town at the southwest corner of Johor.
It is an interesting fishing village with many residents having their houses
built on stilts over the sea.
This village is famous for its seafood restaurants,
most of which are built on stilts over the sea too.

Mummy will update more pictures when she is able to upload it.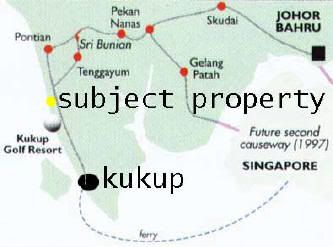 We had a FUN one day trip. Manoeuvering my stroller on the narrow walkway was a tough job. We had to share the narrow walkway with other pedestrians and gung-ho cyclist. I told mummy to be extra careful with me as I dun want to end up down and under the stilts where the rats and the mud skippers are..... (",) There was a old "Ma Zu" temple facing the sea. It was such a relaxing spot!! Beautiful scenery!! WE had good seafood dinner and drove back home.
31 May: The day we drove back to Singapore..... Just because mummy wants to look at the motherhood fair in Expo, Singapore. Needless to say, it was quite a disappointment..... She only got 3 bottles of Pureen shower gel and a swimming trunk for me. Not that impressive huh?!? Moreover we could have started our road trip on 30th.... Sigh we wasted 2 days of daddy leave...