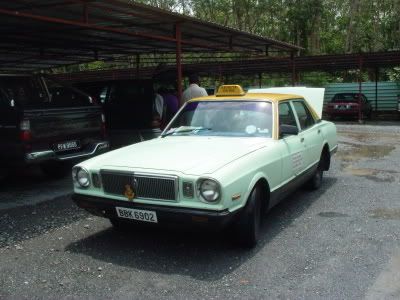 04 June:
"Baby, we are going to Hatyai....." daddy's gentle whispers woke me up at 6am in the morning..... mummy carried me into the car..... trying really hard to coax me to sleep..... But, I kept my eyes open real BIG...... filled with excitement to where we are going..... Did you hear what daddy said?!? We are going to Hatyai!! That's in Thailand!! Boy, I am so excited!
Daddy started the journey.... Yi Ku Ma, Donny gor gor, Mummy and Myself were sitting in the passenger seats with comfort...... "oh, Hatyai..... here we come!"
Daddy drove we enjoyed the beautiful scenery and sunrise. Daddy did a stopover at Sungai Bakap (Penang), we went there for breakfast and pai pai to Tai Shang Lao Jun.... After which, we continued our journey again....
It took daddy about 3 hours to drive up to Changlun (Kedah). That's the extreme north to malaysia, near to the Thailand borders. We parked our car and got a cab.
It think it costed us 65rm. We loaded our stuffs to the old looking toyota cab..... I think that cab gotta be as old as grandma!! We all had to squeeze and cram into the cab.... The cab driver started the engine.... "vrooooooOoOooom" and off we go..... The engine makes loud noises..... Mummy could heard her voice vibrate when she talks..... Yi Ku Ma, joked that we are on a helicopter..... But, Thank god, at least the air conditioner is working SUPER!!
We got across Malaysia immigration..... The cab stopped at the duty free shop car park..... Now, we have to change vehicle.... A shinny nice BIG van stood waiting for us. Donny gor gor was the happiest to see the van.... He thought to himself, wah, so BIG van, so nice so comfortable, dun need to cram liao loh!!
Everyone helped loading stuffs into the van. In no time, we were on the road again..... It is going to take us another 1 hour to get to Hatyai..... The bumpy monotonous jounery continued. It was a really HOT day.... and guess what?!? Our BIG, NEW, NICE, COMFORTABLE van's air conditioning wasn't working too well..... God, we are stuck in a sauna!! So what do you learn from this??!!??
*ahem* Never judge a car frm its' appearance!!
Mummy and myself caught 40 winks on the road...... When we woke up, we were already right in front of the hotel..... Out of the van and right into the cozy cool hotel..... We checked into Siam Centre Hotel.... Gotta stop blogging here and see what this city has for me......