IPOH, Yee Gu Ma's Place
It's the Jade Emperor's birthday today!!

Unfortunately, there is NO fancy birthday cakes or party pack 
to be give away....

Everything seems serious 
as the adults rush for the final preparations....

I did not get to attend the birthday party...

as it was celebrated at the stroke of midnight....
I tried very hard to keep my eyes open,
but they just did an auto shut down on me....
Arrgh.....
A picture paints a thousand words....
so, mummy was busy snapping pictures....
Pretty Dolled Up Fruits
Even Porky the Pig is Looking Pretty!!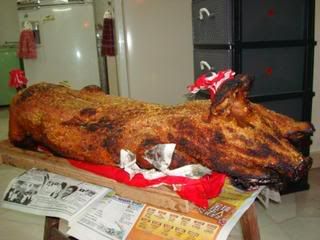 The Generous Birthday Spread
Daddy Offering Joss Stick
Yee Gu Ma offering Joss Stick
Daddy stacking GOLD...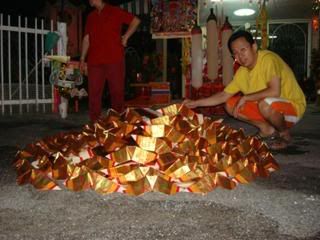 Yee Gu Ma and Daddy keeping the GOLD stack HIGH HIGH...
Yee Gu Jiong aka Man of the house
Burning the GOLD as offering for Tin Gong