Okie, I am the veteran....

mei mei is the rookie.....
Just follow what I do here and you won't get into trouble okie....
Flash your MILLION DOLLAR SMILE...
then let mummy and daddy do all the talking.....
then REMEMBER to collect the red envelope!!
This is a very important step....
coz the special red envelope contains additional collage funds!!
Finally, enjoy all the food, snacks and drinks!!
1st stop: Grand Uncle Donald's Place
Uncle Yew Meng, Ying Ying jie jie,
Me and mei mei....
Uncle Yew Meng with mei mei
2nd Stop: 2nd Bo Po's Place
meimei, PorPor, and Auntie Ivy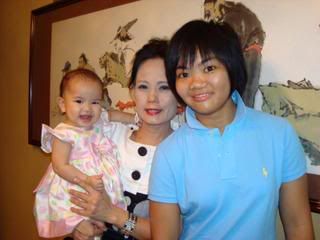 Vain Pots out on the loose!!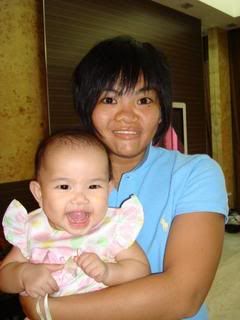 I was recharging my battery in the bedroom....
Hence, no handsome boy pictures to show....
休息 是 要 走 更 長遠 的 路!!
It's a hard day's work, earning collage funds!!
CHEONG ARR!!
恭喜发财,
萬 事 如意,
步步 高 升,
身体 健康,
笑 口 常 開,
萬 字 常 中!
大吉 大利 的 话 都 讲 完 了....
该 是 时候 拿 红包 了 吧!!