1st Stop: 1st Bo Po's place:
Mummy, Porpor, Auntie Ivy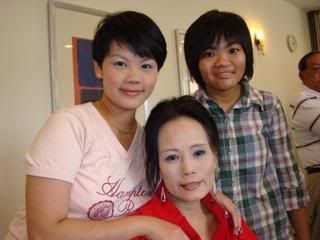 sorry folks, no pictures of mei mei and myself....
Extremely busy!!
I was busy running around with Jayden gor gor...
and mei mei is busy snoring....
with a noisy background of blackjack bankers hyping up the whole gambling den!!
And enthusiastic Aunties and Uncles shouting "CALLING",
while crossing out numbers!!
then shouting BINGO!!
How Interesting!!
(shhhh... Not so loud... I was told it is illegal to gamble like that!!)
2nd stop: Johor Baru; mama's place
R&R at mama's place