Back Posting: 01st October 2008
We started our morning with picnic by Changi Beach.
Alice did all the hard work of cooking and lugging
all the yummy food!
It was pretty much like Children's Day
and Hari Raya all rolled into one!
We had, Bee Hoon, Chicken Rendang, Longtong,
Cheese and Ham sandwich,
and last but not least, Alice specialty, Tempura spinach.
Great Big Feast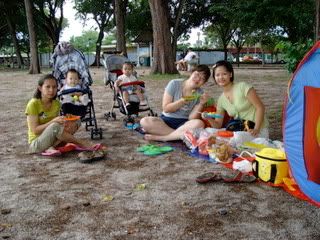 Daddy with Sophia & Thomas
Building Sand Castles
Since the kids wanted a dip
and the beach looks hopelessly dirty,
we decided to bring them to SIA sports club for a swim instead.
I just love this picture,
His facial expression shows how much FUN he was having!!
This is Hiroshi trying to SWIM!!
He has not been through any kind of training yet...
The last time we brought him swimming was months ago...

Must have gotten it from his father's water polo genes!!!
This is the 1st time we see him water kicking out of the blue, 
without prompting....
Way to go son!
In no time you'll be playing water polo like your daddy!
Thomas was just happy staying by the poolside!!
*giggle*
Happy Children's Day!!