I've finally decided to take a break from endless pounding,
fine slicing & shredding,
to go for something really, really simple!
My trusty rice cooker cooks fantastic porridge!!

It has never failed me before....
Yummy, Yummy for my Tummy!!
Something that I've been craving for quite some time,
Black Bean Fish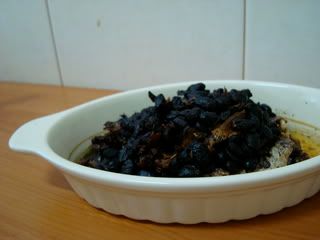 Perfect Melody
Sesame oil radish, Preserved soy bean curd in chili & sesame,
& Century egg with preserved ginger
(Salted eggs are normally taken with porridge,
but, I prefer century eggs better!)
Just my own Personal Opinion!