I've never in my life been to Bukit Timah Hill....
The only time I even came close to getting there
was in a student leadership camp.
Unfortunately, the bus left the camp site 
without me and my best friend
when we had to answer the call of nature!
Duhz!
This is not like any other ordinary family outings we had!
It's a family outing that united 3 different families!
Sister Peggy,
Thank you for organising it!
We had tons of good FUN!
And since Kitson's birthday is 2 weeks away,
Sister Peggy surprised him with a birthday cake!
You should have seen the look on kitson's face!
Truly surprised and touched!
And maybe, even very close to tears!!
*giggle*
Don't we just love surprises!!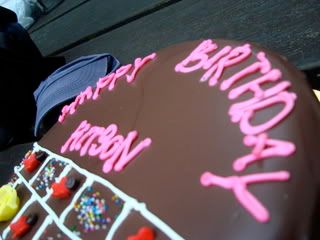 The 3 men of the house
Brother-in-law; Chong, Kitson's cousin; Kam Tong & Kitson
@ Hindhede Quary
The whole bunch of happy kids!
Hiroshi having FUN in the Great Outdoors!
A bunch of wild monkeys 
To cool the heat off, 
we went to Kam Tong's place for a splashing good time!
mei mei was held hostage by a water gun!
We had a lot of fun today....
Now my kids can bravely declare that they are not bukit SuaKu!!
(like I was!!)
At least for now, we've been there done that!!!