Back Posting: 23 April 2009 -24 April 2009

We have been intending to visit
Sengkang Swimming Complex for the longest time.
Procrastination is BAD!
We should have done this so much earlier,
because we had so much fun!!!!
We enjoyed it so much that we did it 2 days in a row!!!
Now I am seriously considering
of bringing the kids for a swim on a more regular basis,
since it is really convenient!
Waddling Pool aka Baby Pool
Sophia went for the slide on her own over and over again!!!!
But on the other hand,
Hiroshi just wanted to stay rooted
where his feet can touch solid ground!!!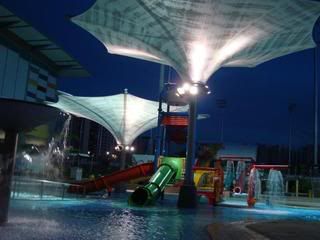 Big Boys' Slides
Hiroshi waddling around comfortably
His BIG MILK BELLY is really showing, huh!!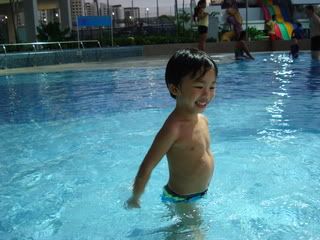 Sophia feeling safe in her life vest
Contented Sophia after the swim!
Dinner @ brewbaker's
It was a bad dinner choice.
The ambience is fantastic!!
But, I wouldn't say the same for food quality and service!!!
Sophia & Kitson turning goofy
while waiting for dinner to arrive
Salmon with Scallop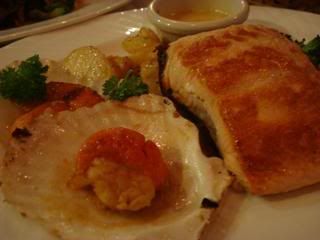 Braised Lamb Shank
Verdict: Will never visit again unless the food and service quality improves!
However, we'll surely be back for another dip at the pool!