I have this terrible weakness
for Pasta Mania's Spicy Clayfish Pasta.....
I love it to bits!
And, I have to order it each time
I make a pass at any Pasta Mania outlet!
The nearest outlet used to be Plaza Singapura!
Now, I am pleased to discover that
a new outlet has just opened at Hougang Mall!!!
Right beside MacDonald's....
That makes it EVEN NEARER!!
They even do Home Delivery!!!!
Bye Bye Crappy Fast Food!!!
HELLO!! Pasta Mania!!!
Tel: 6275 7555
Hiroshi with the Yummilicious Pasta!
Sophia is just HAPPY to see FOOD!
Btw, she's teething again!
4 at one go, Big Headache!!!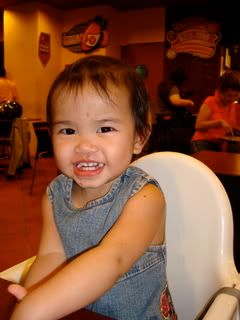 Sophia the Cheeky Monster !