NOW.....
2009
It's hard to ignore the fact that my lil boy is all grown up now!
Sometimes the best laid plans
are often UNPLANNED....
A last minute decision to spend a day warm on the sand
proves to be a day of fun filled bonding for the whole family!
Dare Devil Sophia venturing into the Sea.....
Hiroshi couldn't stop grinning ear to ear.....
Sophia trying hard to Build a Sand Castle.....
Hiroshi amused by the texture of sand!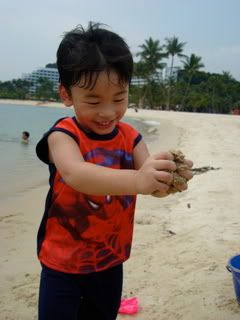 Bubble Fun from the youngest to the oldest....
Hiroshi STILL couldn't stop grinning from ear to ear
even when it was time to wash up and go home!