Accompanied Ivy for Body Worlds
Amazing stuffs on display!
Having a great time with the kids!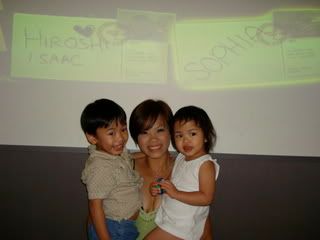 Sweetheart Sophia giving me a great big snake hug!
Look how her arms coils around my neck like a baby python!!!
Hiroshi & Sophia in the Omni theatre
waiting for the show; space station to start...
After the show ended,
Hiroshi says: "Mummy, I want to be an Astronaut when I grow up!
Mummy says: "Okay, You can be anything you want to be...."
Sophia says: "I want to be BARNEY when I grow up!"
Mummy: -o-"'
Maybe we should go back again for water play....
Any Kakies?!?!?