Being 29 is fabulous,
But I am sure 30 is lagi best!
Lunch was at The Disgruntled Chef @ Dempsey Hill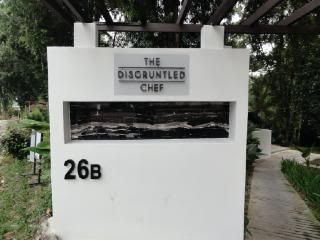 Kitson seriously considering the wine choices....
We love the cosy setting!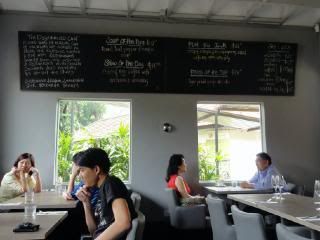 The poison
Egg, potato salad with anchovies dressing!
I've never had anchovies dressing in my life.
It tasted like caviar but at the fraction of it's cost!
Chips drizzled with truffle oil
Kitson and myself had to fight over this one!
Tasted damn good!
My Tiger Prawn Pasta Alio Oglio
accompanied with fine white wine...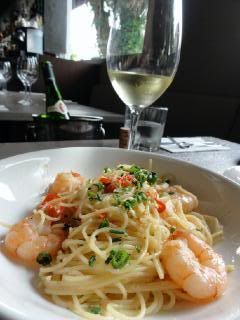 Kitson's Breaded pork medallion with field mushrooms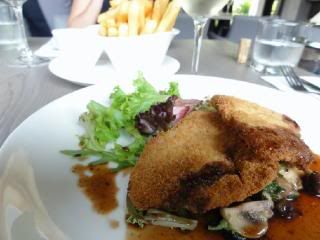 The Hors d'œuvre & French Fries were so good
that the main course pales in comparison.
The happy birthday girl with dessert!
My dessert, Fig crisps with Roquefort Cheese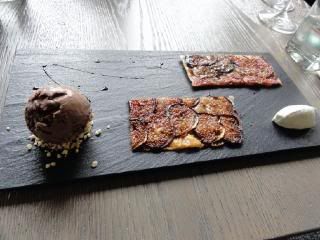 Kitson's Dessert, Chocolate Fondant
This is dessert made in haven!
Warm chocolate fudge oozing with velvet soft cake texture,
Who could ever resist that??!?!?!!?
Dinner with kids
Off to Icing Room for a cake!
What's a birthday without cake??!?!?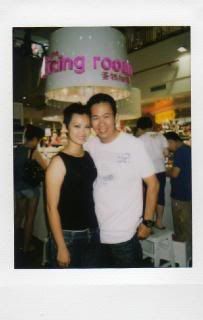 Hiroshi & Sophia putting their 110% of concentration
decorating the prettiest cake for mummy!
Kids with daddy
Kids with mummy...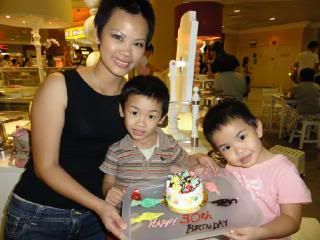 My yummy vanilla peach birthday cake decorated with love!
I am looking forward to what 30 may bring,
but as long as I am happy and healthy,
I couldn't ask for more!
(But, striking a couple of millions in toto
would add icing to the cake!!)