By default,
I do not get excited over at the thoughts of climbing hills.
But, since it was Hiroshi's field trip to Bukit Timah Hill....
And parents were invited to join in the day of fun outdoor learning.
I gladly oblige.
With a good reason like this,
It was way easier to lift those droopy eye lids and drag those heavy feet.
Doe-Eyed Hiroshi
all ready to explore Bukit Timah Hill
We took the green route which was route number 3.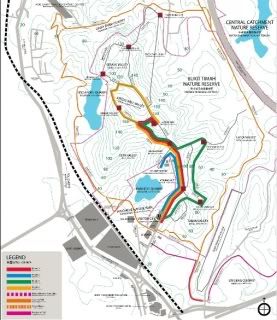 First, we took the South View Path
The kids were all pumped up for an adventure!!
Happy Kids at our first Station.
South View Hut
Our family still looking Great!!
After a little rest,
we moved on.
This time round, we went on the Cave Path.
If you paid careful attention to small details,
you could even catch these hard working ants working their butts off.
We saw tunnels that were used in world war 2.
And even a little spring water catchment area.
Water was clear and refreshingly cooling.
2nd checkpoint; Catchment Hut
Hiroshi still very energetic!
Sophia having a good time too!
And James woke up from his nap,
coz daddy stopped walking!!
Onwards we trail!
This time round we went on the Catchment Path.
I was seriously falling behind!
Thank God!
It was only a short walk till we reach our 3th checkpoint.
Simpang Hut
After a short rest,
we forge on to our last and final checkpoint!
Enjoying the greenery as we walk.
Really majestic looking trees!!!
Fungus growing on wood.
Before I know it,
we've reached the top.
The Summit Hut!
Kids had a little snack at the Summit Hut.
It was amazing to see them barter trading their snacks with their friends.
For me, I am just glad that we are FINALLY there!
If I had to climb another inch,
I would have flopped myself onto Kitson
and asked to be carried like James too!
The way down was more enjoyable.
No more trail.
But, however,
we were greeted with very very steep downward slopes!
Engaged Learning
Kids were excited to see a gigantic ant!
Sophia says,
"He ain't heavy, He's my brother!"
Once everyone reached base,
It was lunch time followed by quiz.
Hiroshi was deeply engrossed with facts in the exhibition hall.
Kudos to these external trainers
who made this trip extremely educational
We had to applaud the school too.
For their initiative of allowing families to join in the trip.
For once, Sophia really felt like a big girl.
Tagging along with all the older Primary 2 kids.
And blending in really well!
She is well accustomed
and ready to embark on her primary one next year!
And as for me,
my muscles are still aching from the most strenuous exercise I had in years!!