The long anticipated SmartKids Asia 2013 is finally here!
SmartKids Asia, the World's LARGEST Educational Kids' Fair
is a fun-filled family event where parents and children,
0 -12 years of age can discover
and experience educational stimulation and mind-expanding fun
through exciting interactive activities
put together by 200 leading multinational
and local organizations.
This signature family event draws nearly 100,000+ parents and kids,
with more than 100+ educational activities and learning programs
that fulfills the cultural educational
and social needs of all children in our community.
Combined with Education, Healthcare and Family services,
SmartKids Asia provides an ideal platform
for parents to explore and focus on raising
a well-rounded child who is well-balanced, healthy and happy.
is happening on
15 - 17 March 2013
at Singapore Expo Hall 5
Free Admission!

I believe they are the only few organizers that truly understand
the definition of goodie bags!
There will be
NO SALES BROCHURES,
NO FLYERS,
NOR PAMPHLETS!
It's 100% of PURE Goodness!!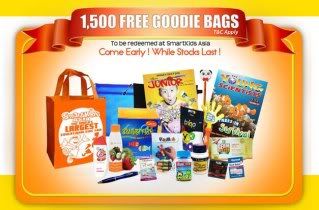 Want to get your hands on one of these fabulous goodie bags?
Simply answer a simple question on
to qualify!
We've got 4 Pure Goodness Goodie Bags to Giveaway.
Giveaway will end on 11 March 2013
2359hrs (GMT:+8)
See you at SmartKids Asia 2013!