Philips Avent
has recently announced the launch of it's redesigned bottles and breast pumps. It's the 1st in 29 years, and we were privileged to be invited to it's media event to understand more.
The event was held in a little beautiful colonial house at Monk's Hill Terrance. Other than minor hiccups that the products were not sent before the event; so that we could use, evaluate and ask questions..... All I could say was it was really well planned, organized and well executed event.
They were extremely thoughtful.
Childminding services were provided.
And James gave me a breather of..... say 10mins.
Which actually feels like eternity.
Since now that he is older,
he learns to emotionally blackmail me the moment I leave him on his rocker!!
*big fat grin*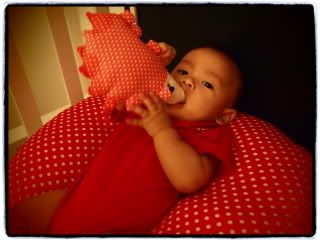 The set up was really informal,
The information packed presentation was over in 20 minutes.
We were introduced to the redesigned
Comfort range Breast Pumps and Natural range Milk Bottles.
The redesigned range of comfort breast pumps were pleasing to the eyes!
I mean honestly,
how could you have said no to such a pretty breast pump!
Comfort Breast Pump comes in 3 available options.
Manual, Single Electric & Double Electric.
(Image Courtesy of Philips Avent)
Unlike other pumps,
Philips Avent Comfort Breast Pumps allows mothers to express milk
in a comfortable reclined position,
instead of leaning forward.
It's soft massage cushion feels warm and natural on the breast,
as it's soft silicon petals gently massage the breast to stimulate let-down reflex,
encouraging milk flow and supply.
And most importantly,
It's compact design makes it easy to position on your breast,
and it's ergonomically shaped handle offers a comfortable hold and full control
when expressing milk.
Being small and light weight means it is easy to store and transport.
This is a huge plus for working mothers.
Comfort Manual Breast Pump:
This is self explanatory I guess.
Simply means you manually pump.
Comfort Single Electric Breast Pump:
Features a gentle stimulation mode and three expression settings
Easy to use on-the-go with batteries
Comfort Double Electric Breast Pump:
Double pumping for milk in less time
Features a gentle stimulation mode and three expression settings
Includes a handy travel bag
Other than the Comfort range Breast Pumps,
the Natural range Milk Bottles are amazing too!
The Wide Breast-Shaped Treat promises high acceptance
and an almost instant latch-on,
as well as preventing nipple confusion
when mother switch between bottles and breast feeding.
Unique Comfort Petals inside the teat
increases flexibility and stretch of the teat,
preventing teat-collapse for a smooth, natural and uninterrupted feed
The new Advance anti-colic system not only prevents leak,
but also reduces the discomfort by venting air back into the bottle,
rather than into the baby's tummy through two high performing valves.
The new ergonomic shaped bottles provides
extra comfort,easy hold and better grip for baby's tiny hands.
And if you ask me,
I think they looked kinda Sexy too with all the curves in the right places!
Since the event was held on a Thursday.
I only brought James along.
Keeping in mind that Hiroshi and Sophia
would still need to wake up early for school the day after.
The wonderful spread that was served up.
I am in love with the baby cutleries too!
And just for the records,
I am looking for product sponsorship for baby weaning products.
Please drop us a email if you are keen to work together.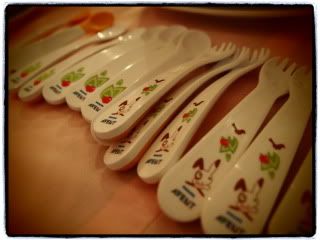 I don't take much desserts.
But I simply love how they look!
Instantly perks the soul up!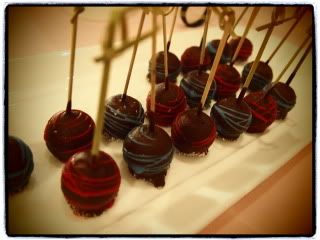 Aren't they Adorable?!?!?
It was getting late and I obviously missed my 2 gems at home.
So after, filling the tummy, I made a mad dash home.
Transportation were arranged for home bound.
Truly appreciated.
I feel like a Singapore Mom Blogger treated in Diva Style!
I came home to see both kids still wide awake
waiting in anticipation for me to get home.
Philips Avent parting gift to us was this adorable bear by the name of Avery.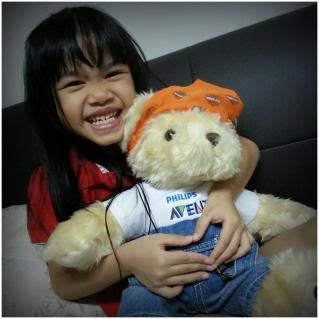 Sophia loves it to bits.
The only problem was,
she renamed him.
Now his name is Philips.
and he joins the array of stuffed toys
which occupied half of Sophia's queen size bed!
Thank you for the invitation.
We certainly enjoyed ourselves!

We are looking forward to review
the Comfort Manual Breast Pump & Natural Feeding bottles too!
(keep a look out for it)


Disclaimer: This is a series of advertorial posting
between Philips Avent Singapore & Baby Hiroshi.
Views and opinions are 100% my own.