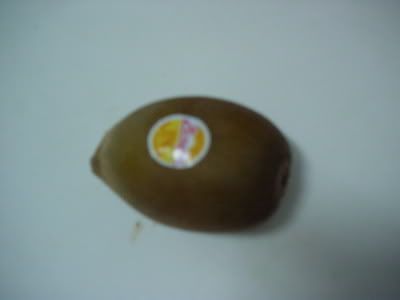 Mummy ran out of ideas on what to feed me for fruits.....
As, she was walking aimlessly around NTUC at Poungol Plaza,
she came across this delicious looking Golden Kiwi fruit....
Then she thought to herself, "why not?!?"
Then she look at the price, 5 for $3.85....
Wah piang oui.... Golden Kiwi fruits in season,
BUT, still so expensive!!
Then mummy say, "Bo Bian Loh!! Let you try....."
Dun you think I am so lucky?!?
Kiwi Puree
Vitamins: A, C, K, Folate
Minerals: Potassium, Phosphorus, Magnesium, Calcium
**Kiwifruit is one of the world's most nutritious fruit and it contains very high levels of vitamin C, potassium and chlorphyll. It contains a wealth of nutrients and antioxidants. It has anti-cancer effects.**
Instructions:
(1) Wash kiwi fruit
(2) Cut Kiwi into half
(3) Scoop out all the yummy kiwi
(4) Smash Kiwi
(5) Then Yum, Yum, Yum loh!!