*mummy's yaking*

It's all getting more and more complicated....

It used to be graded by NUMBERS....

Now they've got beautiful fancy name....

Red Prawn, Cat Mountain King, Sweet dreams.....

ARE DURAIN GRADE VARIETIES~!!!!

Amazing how complicated names can get over the years!

The thing about getting married to a Malaysian

*oh Yes!! I am advocating Malaysian GUYS!!

Personal Opinion: They are far better than LOCALS!!*

is that you get to do all these FUN and INTERESTING stuffs....

like DURIAN FEST!!

across the causeway....

at a fraction of the cost....

rather than staying in BORING little dot SUNNY ISLAND!!

*That's provided if you've got great relatives like I do!!*

The Crime Scene
Fancy Durian Name.....
We need strong hands to open DURIAN!!
WOAH!! That's ALOT!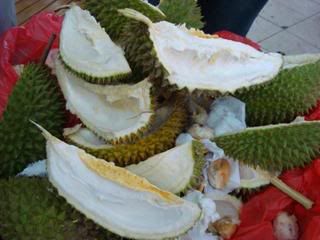 Queen of fruits: Mangosteen
How to open a Mangosteen?!?!?



How to determine many seeds 
are there in the Mangosteen?!?
Ans: From the petals at the bottom of the mangoesteen
HAPPY BELLY = HAPPY FACES!!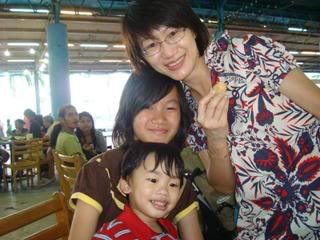 Things Joey did when she got bored:
Groom Hiroshi and snap pictures of him with her phone...
*faint*