Since Auntie  Margie got the *super hard to ballot* 
corporate zoo pass,
she invited us to join her family for a day of fun at the ZOO!!
Thanks Auntie Margie....
I get to meet Grace mei mei 
and Nick gor gor *ahem* the future photographer!!
They were good company!
Group shot at the entrance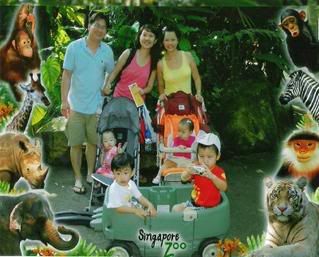 The adults were terrible map readers!!
So Nick and I tried to HELP!!
Even the sea lion is in love with me....
wahahahahaha......
meimei: YIKES!! gor gor... 
You got sea lion saliva on your cheeks.....
Sloppy sea lion kisser~!!!