Lesson B ends with a foam butterfly craft....
Instead of dealing with sticky messy glue....
I stick double sided tape on each of the foam pieces.....
It worked beautifully!!
Sophia's Butterfly:
she was happy to stick down the foam pieces,
BUT, she also tried to take it apart....
whahahahahaha.....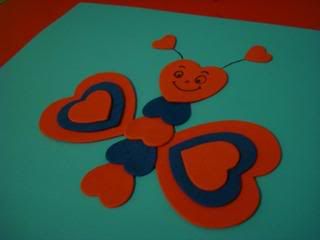 Hiroshi's Butterfly:
He was patiently removing the double sided tape backings...
and IMPATIENTLY pasting the pieces down...
*faint*