Back Posting: 28 June 2008

Someone came by mummy's back and ask.....
Are you Hiroshima?!?
Mummy was like YES.... You are.....
Mummy looked down on a little girl sitting on the pram
she look so familiar
Then mummy shouted with excitment
"ABIYAYA!!"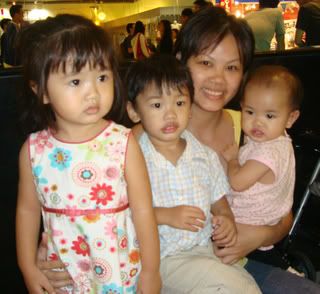 *smile*
What a pleasant surprise!!
Abiyaya is a sweet little girl on mummy blogroll.....
We constantly read her blog, BUT
We've never ever met before!!
Such a coincidence!!
**Please excuse mummy's messy hair and dark eye rings....
She was obviously not expecting a kodak moment that day!!**