Back Posting 04 November 2008

The best made plans
are often UNPLANNED!!
It is sometimes tough to have family gatherings.
Especially when you either have to drive 6 hours up......
OR they have to drive 6 hours down.....
(Although I am often found SNORING at the co driver's seat,
BUT, I still understand that keeping your eye pry open
and DRIVING on the "dangerous" North South highway without street lights
with only cats eye guiding the road
for 6 hours can be darn tedious!!)
It's a long story how we all ended up in JB.....
(All of that doesn't really matter now.....)
The most important thing is.....
We treasure moments like that!!
Italian Restaurant @ Johor
Standing L to R: Kitson, Hiroshi, Me, Sophia
Seating L to R: Sis Peggy, Sis Irene, Rachel, Mum,
Christine, Alice, Sis Linda
Rachel and Christine
never fails to bring a big wide smile to Hiroshi!
We even traveled up to Kota Tinggi
to visit Da Sao Anne and her son Canven.
I have not seen them for 4 years...
Ever since my customary wedding to be exact!
Canven has grown up to be a fine young man....
This is my first trip to Kota Tinggi...
BUT, I still do not know how the town look like...
We were there at about 8 odd in the evening....
It was dead quiet and dark.....
I don't even remember seeing much people on the streets!!
Oh well, at least I got to eat some yummy supper at Public Restaurant!
Standing L to R: Sis Peggy, BIL Chong, Rachel, Christine, Me, Sophia, Kitson
Seated L to R: Sis Irene, Sis Linda, Mum, Da Sao Anne
(Hiroshi is snoring in his pram!!)
Standing L to R: Kitson, Me, Sophia, Christine, Sis Peggy, BIL Chong, Sis Irene
Seated L to R: Rachel, Mum, Da Sao Anne, Canven, Sis Linda
(Hiroshi STILL snoring in the pram!!)
Jiu Pai Mai Fen
(Trademark Bee Hoon)
Shew Yu Kap
(Roasted Pigeon)
Tam Sui Ha
(Fresh Water Prawn)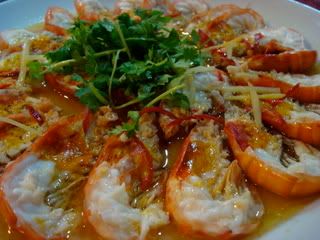 L to R: Sis Linda, Mum, Canven, Sis Irene, Sis Peggy, Da Sao Anne