Started my day on a happy note 
that I will be pampered like a princess 
with a FREE makeover!!

(even got FREE lip gloss after makeover leh!!)
When I was attending professional make up lessons 
 many donkey years ago,
my makeup trainer, Ginn told me 
to never step out of the house without makeup....
Oh boy.... Now I'm sure you can see why!
Make up artist and myself after the makeover....
Did I look any better?!?
Myself and the EX Stomp Star Blogger, Nadia
She used to  be my makeup model 
for my makeup portfolio many donkey years back....
After the makeover, I brought the kids to the playground at Paragon 
to burn off some excess pent up energy....
Now, the strategy is to get them dead tired, 
so that I could
window
shop in peace later.....
And, it is with such coincidence that I bump into my Aunty Pat!!
................................
And the whole jing gang of aunties, cousins, niece, and nephews!!
So we ended up shopping and having dinner all together....
Hiroshi & Jayden
Wilson, Hiroshi, Sophia, Lulu
(Thanks for sending us back!!)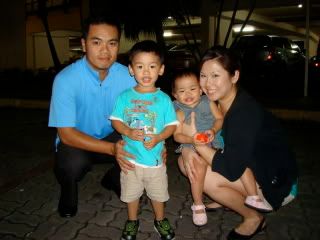 Lulu will be flying up to Abu Dhabi this wednesday 
to join Wilson who is posted there permanently for work......
Lulu, have a great trip!!