Stir fired sweet peas, carrots & lotus seed
Deep fried cheesy potato tuna balls in cute food picks
Stary rice ball
Mayo in green birdie container
Thomas the train lunch box
(one of Hiroshi's many favourite characters)
Lunch box wrap from Diaso
Have you ever wanted to start on the bento making journey 
but didn't know where or how to?!?!
Let's start by getting the SIZE of the lunch box right....
As usual, the Japanese people are great in rigid stuffs....
especially when it comes to measurements....
In Japan, bento box size is described not by it's dimensions.
it' described in volume or capacity . 
Why? 
Because a rule of thumb in Japan is that 
when you pack a bento box normally 
(A: 3 parts grain dishes, 1 part protein dishes, 
2 parts vegetable dishes;
 B: without candy, junk food or fatty food; 
and C: without empty space), 
calories correspond directly to capacity. 
So a 400ml box should hold 400-calorie meal.

Step 1:
Determine age & height
Women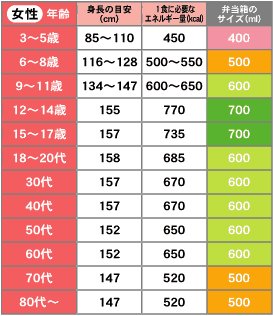 Man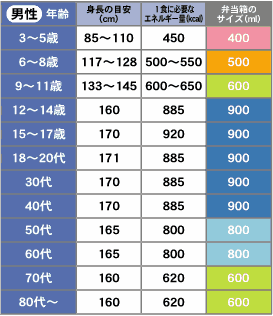 1st column: Age
2nd column: Height
3rd column: Calories/Meal
4th column: Size of lunch box needed in
ml
Step 2:
Final adjustment according to the level of physical activity & height
Physical activity:

Level 1: Low (spend most of your time sitting or quiet)

Level 2: Moderate

Level 3: High (lots of exercise, sports, etc.)

Adjust the size of the bento box for your height and physical activity:

Add 100ml to your bento box size for:

Taller than average height

High physical activity (Level 3)

Subtract 100ml from your bento box size for:

Shorter than average height

Low physical activity (Level 1)

Now that you know what size of a bento box you need....
Isn't it time to get your butt off that seat,
eyes off that screen...
and start shopping for a super KAWAII bento box?!?