Hiroshi forgotten to bring back 
his lunch box from school again yesterday,

so I am making use of the OCBC freebie lunch box again....
Oh well, I am not complaining 
about getting stuffs for FREE......
But this lunch box is obviously 
for my little boy!!
I obviously 
OVER PACKED!!
Top tier: stir fried lady's finger 
& straw mushroom with dried shrimps
Deep fried soya chicken drumettes
Katsuo Furikake in little cute container
Lower tier: White Rice
Steam Japanese Sweet Potato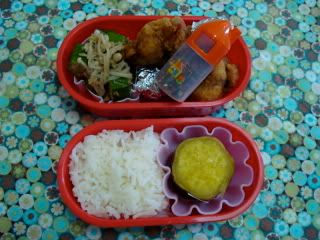 Katsuo Furikake is a dried seasoning mix 
usually sprinkled on cooked rice....
This one I used here consist of 
dried bonito, sesame seed and seaweed....
Instantly turning plain white rice 
into a yummy tasty meal!!
(In fact put it on anything you like, 
eg; vegetable, tofu, noodles and the list goes on!! 
Use abit of your imagination.....
Be daring.... Be adventurous!!)
Close up on top tier
Close up on lower tier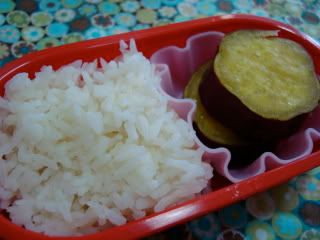 How on earth can my petite 3 year old boy finish all these food?!?
Moral of the story: 
Time to shop for more lunch boxes
in the CORRECT SIZES!!