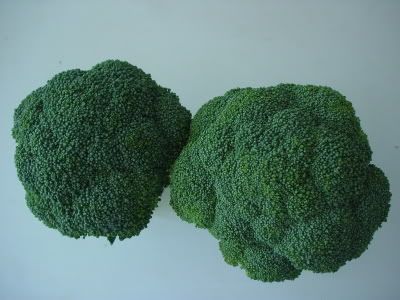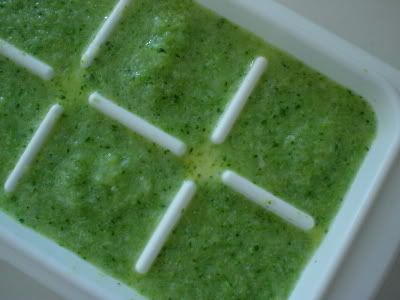 Mummy made broccoli puree for me. It must have tasted good as mummy and daddy had some of my puree for dinner..... Mummy made broccoli soup for dinner. Yummy, I can't wait to taste it!!
Broccoli Puree
Vitamin: A (4533 IU), C, E, K, Niacin, Folate
Minerals: Potassium, Sodium, Phosphorous, Iron, Magnesium, Calcium
**High vitamin C, Great source of soluble fiber. Soluble fiber is the fiber that helps loosen up the bowels as it changes its form as it passes through the digestive tract**
Ingredients:
1 Bunch of Nice Green Broccoli
Instructions:
(1) Wash broccoli, by soaking them in water
(2) Chop stems and florets into small pieces; use just the florets.
(3) Steam broccoli for 10-15mins
(4) Blend broccoli, add leftover water from steam broccoli
(5) Add boiled water for smoother consistency
(6) Pour puree into ice cube trays and freeze
**expiry date: 6 months**
P/S: For broccoli soup, just add milk, salt and pepper to taste.