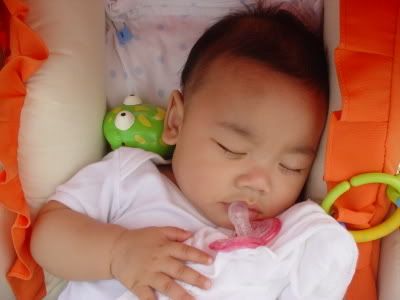 The time has come to cast that one vote that will determine your "FUTURE".
So, what will it be?!? Mummy's polling station is Punggol Secondary School.
Nice, shinny cars have been seen parking illegally along the stretch of road.
(Well, I guess this is one time that you can park where ever you like
and the Traffic Police won't even bother.... **eat snake**)
Mummy push me along in my fancy Capella four wheel drive,
and mummy was on her KAR (hokkien for legs) as well....
We were there at about 10ish.....
When we reach there were polling officers checking our poll cards and Identity card,
maybe they just want to make sure that Osama Bin Laden wasn't at the poll....
After checking, we went in the polling station. Mummy has to Q!!
People with old folks and people on wheelchair were allowed to JUMP Q.
So, the moral of the story is, it pays well to be filial, or else go to the poll station on wheelchairs!! After 9 minutes 40 seconds of Qing, the time has come,
it only took 20 seconds VOTE for your Rights. and DEMOCRACY!!
As you can see, I wasn't even interested in politics!!
I fell asleep throughout the whole polling session.
Well, so much about mummy voting for the first time.
Let's go to Punggol Plaza, relax and have a bowl of Yong Tau Foo.....