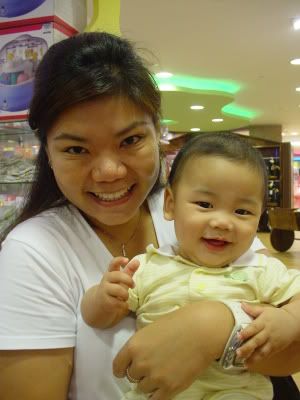 New friends are like silver
Old friends are like GOLD,
Make more new friends....
BUT, Never Ever Forget the OLD.
This is HuiXin che che, mummy's primary school classmate from San Shan Primary School. Mummy knew her for a good old 15 donkey years..... (mimick donkey~~ *hee-har*)
Mummy met up with 2 of her primary school classmates, HuiXin che che and MeiNi che che at Marina Square on 08 May 06. It was friendship LOST and FOUND. HuiXin che che found mummy on
friendster
, then from there, they kept in contact and met up. It is amazing how lives have changed for all of mummy's friends..... Mummy felt that it was nice being able to meet up after so many years and talk about "long before your time, in the northen part of Singapore" stories..... (mimick Tan Ah Teck from Under One Roof)
She clearly remember the Playground where they used to have lots of FUN!! The nitendo set that they fight over in one of mummy's other classmate's place, and the roller skating at mummy's place.... All of these seems like yesterday. Good old memories of good old friends.....