Hu Peow Th'ng

(Dried Fish Maw Soup)
This is the first time I am dealing with fish maw.
I love the sound of it crackling when it is soaked in water....
But, it is freaking expensive!!
S$20 for a mere 50g of fish maw!!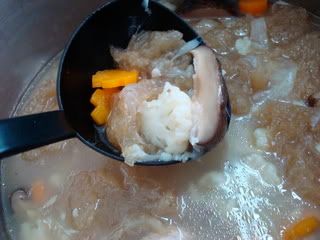 Fresh Anchovy Fry Omelette
A simple fare, quick and easy, no big fuss!
Ikan Cencaru Sumbat
The sambal stuffed inside the slits 
add an interesting twist to boring fried fish!