Back Posting: 5th March 2009
Kitson's niece; Winnie 

who is working for Etihad flew in from Abu Dhabi....
It's been quite sometime since I last saw her in Singapore....

Since she wanted to go to Diaso
we met up at IMM....
And I think IMM has the BIGGEST Diaso!!
Hiroshi goofing around with hats in Diaso
Having tea break at a hong kong cafe outside Diaso
*extremely rare* Smiley Sophia, Sister-in-law Irene, & Winnie
Next up, 
if you think that sounded very fancy and up market,
you are completely right about that!
As we opened the doors,

catchy italian music fills the air to greet us....
The owner, Valtunlina Valevtino 
promptly helped us with our cake selections....
We had to try this one out 
since Alice raved about the cakes over and over again.
If it wasn't for all the fats and calories count,
I bet you, she will be there all day and night for cakes!
We got the best selling cakes:
Torta Valentino
Chantilly Al Cioccolato Bianco
And if you are really observant,
you'll see "Happy Belated Birthday" on both cakes!
We were just finding good excuses 
to shove yummy cakes into our tummy!
We celebrated Sister-in-law Irene birthday
which is like a week ago,
and we also celebrated Chris Lee's birthday,
which is like a month ago!!
Muahahahahaha
Now I don't feel so guilty,
nor do I feel that I've committed 
one of the 7 deadly sins; Gluttony!!
We had 2 cakes for a PERFECTLY good REASON!!
Both cakes tasted great.
But, I like the chocolate one better!
Pasticceria Da Valentino
7 Jalan Bingka
Tel: 6462 2247
And since Chris Lee clinched a good deal at work,
We were treated dinner at Crystal Jade; Vivo City.
Belated Birthday Girl & Boy
with baby Thomas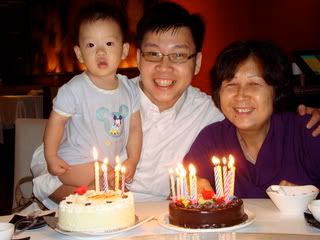 Winnie brought a bottle of Rose Wine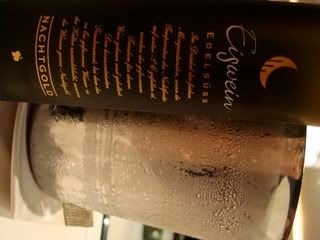 It's my first time trying rose wine,
tasted nice and smooth!
The colour pink makes it so pretty!
Back Posting: 10th March 2009
Dinner at Lao Beijing; Plaza Singapura
Sisters & Brother
Sister in law Peggy, Winnie, Hiroshi & Alice
We had a great time hanging out!
Winnie, Please come back soon!!