I've read rave review about Eighteen Chefs on many foodie blogs.
I knew I had to try it someday....
The owner of Eighteen Chefs is Benny Se,
He is the ONLY Singapore 
to be trained at Jamie Oliver's restaurant, Fifteen! 
Kitson and myself are vivid Jamie Oliver fans!
This guy is simply amazing!
His spontaneous style of cooking often leaves me the impression 
that it is not difficult to whip up a fancy meal for any occasion!
His recipes also ensure 100% success rate!
In fact, we'll like him for our neighbour 
if he ever decides to live in Sunny Island, Singapore!
(Imagine getting invited to dinner everyday!!
Oh Yummy Good Food!!!)
You could actually mix and match to get the perfect dinner.
In order not to end up in twlight zone and not know what to look at,
I've list down step by step on how to get your orders done.
(We took a long time figuring out how to order! 
Duhz! *slap forehead*)
Step 1: choose your carb
Step 2: Choose Sauce
Step 3: Choose Ingredients
Step 4: Choose Additional ingredients
Step 5: Choose Combo Meal
Bon Apetit!
Carrot Soup
Note: Soup was not served HOT...
It was only warm!
Garlic Bread
I guess this is the ONLY food worth talking about.
You can hear the crust crumble 
when you bite into this piece of garlic bread
The full aroma of garlic fills your mouth!
A pleasure to eat!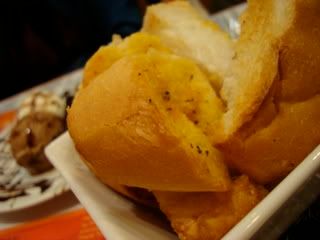 That's my dinner
Baked Rice, Tango mango, Seafood, Prawns
With combo meal soup & drinks
I am disappointed!
The rice is not fully cooked in my bake rice!
I didn't even think it tasted good too!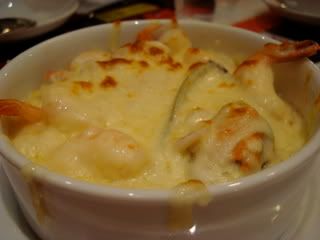 That's Kitson's dinner;
Baked rice, spicy garlic sauce, seafood, prawns
With combo meal of soup & drinks
Again, I am disappointed!
The rice is still not fully cooked, 
although it is more cooked than mine thou!
Sister-in-law Irene's diner
Set meal B: Breaded Prawns with Japanese Curry
T.E.R.R.I.B.L.E. 
I dun think Sparky the dog will even take a sniff at it!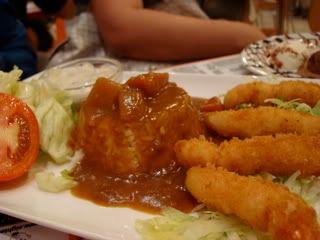 The garlic taste overpowers everything.
I seriously can't tell what seafood I was having 
other than garlic, garlic and still garlic!
Alice's Brownie with Ice Cream
No adverse reaction to this desert
So I guess it is still eatable bah!
I don't think I remember reading a bad review for Eighteen Chef.
But, I personally feel that YES, too many cooks spoils the soup!
And I am not too sure if I am returning 
to try the food again to give it another review......
*shivers at the thought of garlic!*
Eighteen Chefs
Eastpoint Mall
3 Simei Street 6 #01-36
12pm to 11pm
67821298