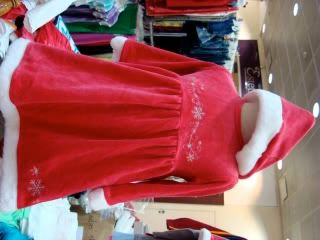 This dress is beautiful for the season....
I got 1 for Sophia and I couldn't resist but buy another one 
so that one of my readers could have it too....
It even comes with the Christmas Hat!!
(12-18 months)
How to win:
Just post a reply
(click on comments)
Please remember to leave me your email 
or some sort of contact details 
so that you could be notified.

How to double your chance at winning:
Write about this giveaway on your blog 
(and remember to link back to this giveaway page....) 
and post your your permalink in the reply....
How to win something EXTRA:
Refer people.

 And tell them to tell me where they came from in their reply. 
If you refer the most people, 
you'll win something too!
This December Christmas Giveaway will end on 15 December 2008.
(2359 Gmt +8)
Results will be announced on 16 December 2008.