Hiroshi is on a school excursion today.
That gives me the free time to write about this posting....
The 1st step to creating healthy lunch is to get a bento box.....
And since I've already covered 
how to choose the right size bento box 
I will roughly touch on the different types of bento boxes
that are available in the market.
Tiger Thermos Lunch Box
This will keep your lunches warm for 6 hours...
All containers are microwavable...
(please remember to remove lids for heating)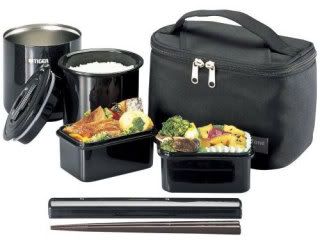 Gasp.... I am feeling GUILTY....
In such a short time of my bento obsession,
I've gotten so many bento boxes!!
Top Left: (our latest addition) 
Kitson got this ag+ Silver Ion antibacterial bento box 
from his recent Japan trip.....
It is pretty, but way too BIG for Hiroshi now.....
Top right: OCBC double tier bento box
Bottom left: thomas the train bento box, Hiroshi's current favourite...
Bottom right: Car bento box from Daiso.... Cheap & Good!
Simple Lunch Box From Tupperware...
I find that a good cheaper alternative is 
"lock & lock" brand containers, 
easily available from NTUC or Cold Storage  
I think they will work equally as well at a fraction of a price....

Moreover it is microwavable too!
(please remember to remove lid for heating)
These are the equipment that makes your rice extra special....
Top left: Onigiri Maker (Daiso) Top right: Rice BALL Maker (Daiso)
Middle left: Mini Triangle rice ball maker (Daiso)
Middle right: Mini Cube rice ball maker (Daiso)
Bottom: Heart, Star, Bear rice ball maker (Takashimaya)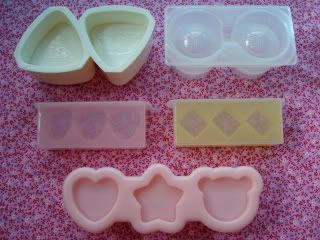 You can also use large cookie cutters as rice ball mould too.
Tip: I've found out the by dipping mould into water
 before scoping in rice makes it easier to dislodge the rice ball......
ALL ABOUT VEGETABLE CUTTERS
These are metal cookies cutter 
that I normally use to cut my carrots with...
Very small effort, but it makes lunch 
look so much more interesting and pleasing to the eye....
This is the equipment used to divide your food,
so that it will look nice and presentable...
and not like some chap fan (economical rice) 
that you picked up from the food court.....
You can use plastic sheets dividers
or Aluminum Foil
Some has really cute designs on it!!
Check out Daiso!!
Silicon Cups
This is what I normally use.
Environment Friendly.....
and also Kinder for my pockets!
Please check the heating labels 
if you intend to bake or microwave in these silicon cups...
*some silicon cups are not made for heating purposes*
ALL ABOUT SAUCE CONTAINER
You can pack sauce into tiny containers like the ones below...
Hiroshi loves these containers....
He treats them like little surprise boxes....
He also makes sure the content inside are licking clean 
when he finishes his lunch.....
ALL ABOUT FURIKAKE BOTTLES
These are the tiny bottles keeping your furikake fresh, 
until you are ready to eat it.....
This is great on finger food or fruits....
Just pick and eat!!!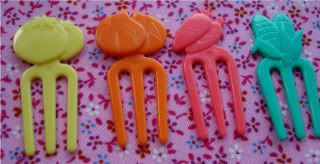 This pretty much looks like our paper craft puncher....
Except that, this is to make fancy design on seaweed...
So CUTE right?!?
How can you resist such KAWAII things!!!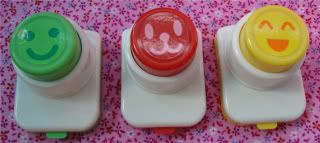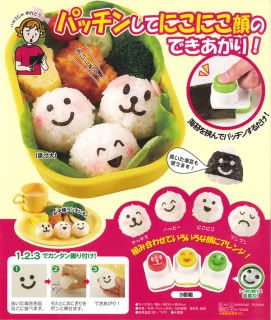 This pretty much sums up about equipments and supplies 
needed to make fun bento lunch boxes....
Have FUN!!