Back Posting: 12th December 2008
I am very lucky to have found the right PD from the start....
Doctor Lilian Lim from Kid's Clinic @ Rivervale Mall (Sengkang)
She is so good that on a regular day, 
if you pop by the clinic without an appointment 
you are expected to wait up to 3 hours!
Oh well.... 
I seriously have no complains waiting 3 hours 
for good health care services!
What about you?!?
Sophia is happy here for a good reason!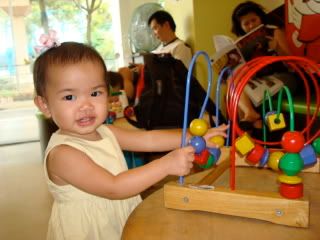 This will be the final vaccination for the time being 
until the tender age of 7.
Good news for Sophia's BUTTs!
I seriously thought she was going to scream, 
shout and cry at the sight of needles.....
I could imagine her saying, "I dun want, I dun want!!" 
when she sees the doctor.....
Thoughts kept running through my mind 
while walking towards the clinic.
But, I've underestimated my child again!
She bravely gone though the vaccination 
with NO COMPLAINS!
Sophia, I am so proud of you!